Quick Tip:
Sign Up as a member!
Members (873)
Welcome campers!
I´m Ellie, cabin leader in the apollo cabin. Pleased to see you! Want to get claimed? Go to claiming in the top menu. Then, comment your results there or message me: ellie_apollo . To level up, earn coins by training and buy yourself a level. The highest leveled members of each cabin are the leaders. Want to go on a quest? Don´t click quests. Instead, click ´big house´ to check for details. Quests has questions and other things. Once you´ve started, go to the camp store if you want to buy a weapon, nectar, ambrosia, or a shield. Message Arena heads if you want to battle other campers. Make an account as a nymph or satyr too.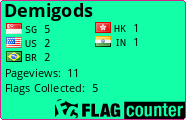 Halfblood News!!!!!
Summer prep contest ends July 10!




MESSAGE FROM ADMINISTRATOR I have been offline for months, and had little time to do anything on this site. HOWEVER... I´ve promoted my friend (from real life), grimsby8610, to a moderator and have given her the key to the claiming. If she replies that a god has claimed you, don´t take it as a fake.